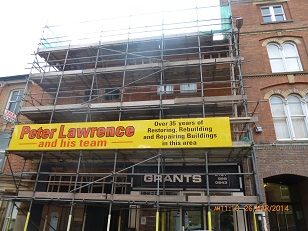 A Cheshire builder has been sentenced after pleading guilty to multiple health and safety issues at a site in Altrincham where he was carrying out a shop conversion into three apartments.
Peter Lawrence was running the building works at the former Ernill Butchers shop on Kingsway in Altrincham, where he now lives in one of the apartments, the other being owned by his business partner.
The project involved the full strip out and refurbishment of the ground floor shop and two upper floors to convert into three apartments.
Former teacher, Mr Lawrence was in control of all construction works and acted as builder and project manager, employing numerous trades and labourers on site throughout the refurbishment which first came to HSE's attention in November 2013 following a complaint about possible asbestos disturbance on site.
Between November 2013 and April 2014 a number of Health and Safety Executive (HSE) inspectors visited the site to investigate safety concerns and deal with the risks presented by Mr Lawrence's work. A number of issues were identified during the visit including unsafe work at height, unsafe scaffolding, issues relating to asbestos, fire safety failings, unsafe electric supply, a lack of welfare facilities and safety equipment.
The HSE inspectors served three Prohibition Notices and four Improvement Notices, along with two Notifications of Contravention during the three site visits over only a six month period.
On Friday 18 September 2015, Trafford Magistrates' Court heard that some of the issues had been satisfactorily dealt with by Mr Lawrence following HSE's intervention but that he had failed to comply with two Improvement Notices regarding fire safety on site.
Mr Lawrence was charged with two counts of failing to comply with an Improvement Notice, one count of failing to provide adequate fire fighting and fire alarm equipment on site and one count of failing to plan, manage and monitor construction work so that it was carried out in a safe manner.
Mr Peter Lawrence of Kingsway, Altrincham pleaded guilty at Trafford Magistrates Court to breaching Regulations 13(2) and 41(1) of the Construction (Design and Management) Regulations 2007 and two breaches of Section 33(1)(g) of the Health and Safety at Work Act 1974 and was fined £8,000 with £4,802 costs and a victim surcharge of £120.
HSE inspector Matt Greenly said after the case: "Mr Lawrence completely failed in his duty to protect his workers, his subcontractors and visitors to his site from harm.
"Enforcement Notices are served by Inspectors where there is a serious risk which needs to be better managed, in this case fire safety. By Mr Lawrence repeatedly ignoring these Notices he has undoubtedly put the lives of his own workers and subcontractors at risk from fire, as well as the lives of his neighbours and passers-by.
"Given the range of serious breaches identified over a very short period of time, and on a relatively small construction project, it is very fortunate that nobody was injured or even killed while working on this site. I'd therefore like to thank the member of the public who initially alerted us to the work, and may well have prevented a serious injury."